Teacher James Mphaya
James, an orphan, was a former student beneficiary of FOCHTA who obtained a degree in B Sc (Agronomy) sponsored by Caroline Jones in Australia. Currently, James is teaching agriculture and chemistry at a Catholic Mission School.
In Malawi, Catholic and national schools are selective schools catering to elite students. James is married with two children, both girls, and his wife is a primary school teacher. He likes to spend his leisure time reading novels and scientific books. James said, " I am very interested in learning about different beliefs so that I can impart these to my students. I am very blessed to come this far in my life, thanks to my sponsor and the support from FOCHTA. In return, I shall, starting from next term, support some students".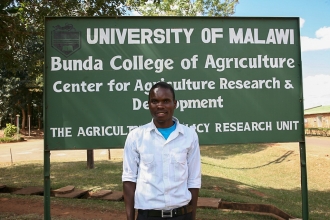 Posted on: Monday, 18 February 2019 at: 6:38 am