Student Workshop Held on August 3 2018
Over 40 students from 12 schools attended this workshop in our VTC. The objective was to promote solidarity between past and present students as well as to engender mentorship. There were two former graduates who gave talks to students:
Brenda Jeremiah, a midwife and nursing officer in the biggest hospital in Blantyre spoke about adolescent health & stress management. Aaron Mwafuliwa, a lecturer in the Dept of Physiotherapy at the College of Law spoke about importance of human relationship, confidence building, problem solving and career guidance.
This was followed by a panel discussion with a question and answer session led by Brenda Jeremiah, Ireen Miteche, Charles Sokoso, Aaron Mwafuliwa. Topics covered included: relating to students their personal life-changing experience, enduring hardship from having come from severe poverty, orphan backgrounds to finally academic and work achievements.
The catering of the day's event was financed by graduate students. Towards the end of the workshop, Charles Sokoso, the day's convener (a livestock technician for an NGO) announced that the alumni has pledged to support five secondary school bursaries.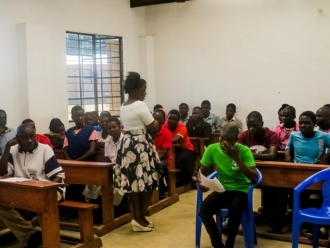 Posted on: Sunday, 12 August 2018 at: 2:54 pm