STEVEN LABANA, C0-FOUNDER
Chairman of the FOCHTA Board of Trustees
FOCHTA is very fortunate to have Steven as a co-founder. Steven has worked for MSF Belgium for over 20 years. In the beginning, he was working in the home-based programme for HIV/AIDS patients, an MSF initiative. This allowed patients who after receiving medications from MSF did not need to stay in hospitals. Steven's role was to recruit and train volunteers so that they can visit such patients on a regular basis to make sure their vital signs were in order and that they are well cared for.
Over the years, Steven has worked in different capacities for MSF. These include joining medical teams to areas with cholera and other epidemics, serving as interpreter for expatriates and helping with logistics arrangement. Last year, he was also tasked with re-arranging the huge medicine warehouse, re-arranging the archive and up-dating the data system. He was later promoted to be the Logistics and Knowledge Manager.
Despite his busy schedule, including traveling by public transport that takes over two hours each morning to work in the MSF office, he is never short of time to monitor the progress of FOCHTA, attending to every detail in the operation in the weekends.
Steven is also a very respected and well-known village elder in Luchenza Town as well as in the village he had come from, with a wide network of contacts from many communities and villages in the entire Thyolo District and beyond. In May this year, he will be traveling to MSF head office in Belgium to attend meetings.
Steven recently said " My dream has always been that FOCHTA becomes a success for the beneficiaries that we support. Like the bird in our logo, that we will fly higher and higher, and that student graduates we have produced are recognized in the best of ways in the country".
Steven is married with three children.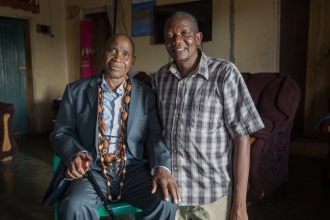 Posted on: Thursday, 22 February 2018 at: 1:24 pm