New Wheelchair Donated to Biswick
Biswick Kabambe has been the instructor for FOCTA VTC's tailoring department since four years ago. Biswick, aged 32, developed cerebral malaria when he was three years old thus becoming disabled and requiring a wheelchair ever since. His wheelchair got broken recently, and thanks to Nancie Horne in Gosford of Australia, was able to obtain a new one.
Biswick studied tailoring & designing and obtained a diploma at TEVETA. He later obtained an advance diploma at Soche Technical College, a four year course.
Biswick has been very active serving as a youth coordinator with PODCAM, an organization in Malawi for youth with disability.
Prior to working for FOCHTA's VTC, he had worked as an apprentice in a number of weaving factories.
In 2009, Biswick was invited to Norway to represent Malawi, together with representatives with three other African countries. The theme was to highlight the problems facing people with disabilities in Africa. Biswick is married to a caring wife named Phylice.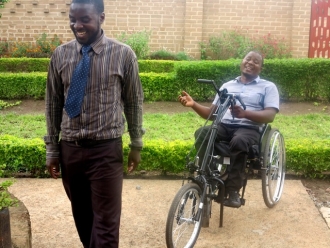 Posted on: Tuesday, 12 February 2019 at: 12:41 pm