Latest news from FOCHTA
Charles Sokoso, aged 33, was our former beneficiary in secondary schooling. He was later also supported by us to study farm animal management. This was when he met his then future wife who was doing the same course, and then both worked in the same field. Charles is currently working as a livestock officer at an NGO called Sakata Livelihoods & Community Development. They now have two daughters, aged 2 and 5. Since after Charles' studies, he has been very supportive of FOCHTA, liaising with and getting past students to do the same. Charles is currently also supporting a secondary student.
Kondwani Biton. Kondwani was supported by FOCHTA to do a certificated course in motor mechanics. He has since switched over from working in that field to setting up a nursery, selling seedlings etc to organizations that make it their aims to save the environment. Kondwani is also a regular volunteer to FOCHTA, from maintaining our vehicles to help managing our farm.
Ireen. She has been waiting for months to obtain a teaching position after her graduation in Bachelor of Education, and only recently got a job teaching in the Chirazulo Community Day School which she is very happy about. In her spare time, Ireen is also very much interested in play acting.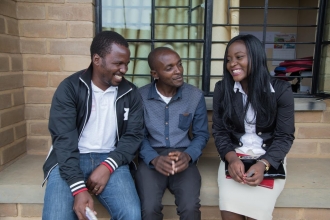 Posted on: Wednesday, 21 March 2018 at: 1:28 pm