Fundraising in Belgium
FOCHTA is very appreciative of our group of Belgian friends led by Danielle Moucq. Danielle organized a fundraising golf tournament outside of Brussels on July 24 which raised 2200 Euros. Her group included Andree Van Leer, Michel Annez de Taboada, Patricia Stichelmans, Mr & Mrs Christophe Schinkel. They were also assisted by Danielle's daugheter-in-law Melanie Dewulf, her son Alexandre Dewulf, his wife Aude Dewulf and Berengere Algoedt.
Fifty four very brave golfers competed during exceptionally warm weather. The competition was held at the Royal Golf Club De Waterloo, during which ice cream was served by Andree Van Leer to relieve the players. The lady winners were later presented with prizes of cosmetic products that were donated by Melamie Dewulf, while the men winners were presented with coffee making machines donated by Christophe Schinkel.
Following the competition, a dinner was held with guest speaker Jean Claude Delepiere speaking about "Fight Against Terrorism Financing". Jean Claude Delepiere is a financial specialist who has created a financial cell in the Belgium Parliament.There was also a lucky draw held, a "tombola", with prizes including a six-month free pass to watch movies in a local cinema, donated by Patricia Stichelmans.
FOCHTA would like to express thanks to Andree Van Leer. He is a member of this golf club as well as being the main organizer for the event. She had spent a lot of time arranging with all the competition's details with the club as well as for the dinner held afterwards.
Captions:
Top: Michel Annez de Taboada in middle with many of the participants.
Middle: Danielle Moucq (left), Winner Mr Liekerke (middle) with his wife and Andree Van Leer (right).
Bottom: "Tresorier" Michel Annez de Taboada (second right), Danielle Moucq (1st right) with winner and his wife.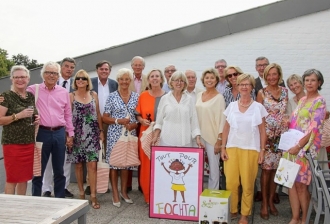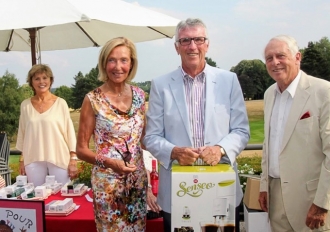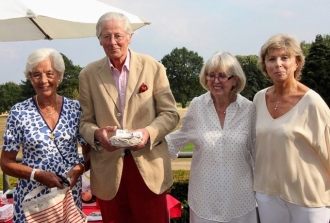 Posted on: Wednesday, 15 August 2018 at: 10:44 am