An Appeal for Edith
Edith has just finished her first of a three year course in tailoring. She has just sat for her grade three examinations conducted by the Malawian National Trade Test in Tailoring. Edith has no father, and her mother, who is without a job, has to support her two younger sisters in primary school. This first year in tailoring has been financed by her grandfather who, until recently, was a journalist. Unfortunately, he suffered from diabetes requiring his foot to be amputated, resulting in being not able to work again, and therefore will be unable to support Edith to finish her course.
The tuition fees for each of the two years is Aud$350 and boarding and living expense per year is Aud$550. The total per year is Aud$900. This may be payable every six months.
FOCHTA is hoping that a sponsor can support her (or to part-sponsor her) that which will make her life a meaningful one.
Edith, aged 18, is a very responsible young lady. In her spare time, she has served as a volunteer helping the office to update data and such; always cheerful and meticulous in whatever she is asked to do.
For further information, please contact: .(JavaScript must be enabled to view this email address).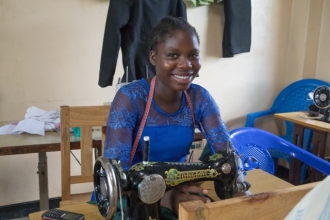 Posted on: Tuesday, 27 February 2018 at: 3:47 pm