Alambeje, a College Student We Are So Very Proud Of
Despite physical hardships due to her physical disability and in deep poverty, Alambeje Daniel, who had been supported by FOCHTA in her secondary schooling, is now studying in a tertiary college in Lilongwe, the capital of Malawi. She is about to start her second of a four year course in Information Technology. This requires her to do a six-month placement in the local district commissioner's office, together with six other students. She recently said she is enjoying college life immensely and the friends she has made.
Alambeje's father passed away when she was young with her mother hardly able to make ends meet to support her. Apart from that, she was born with a physical disability that requires her to be wheelchair bound. She requires constant care from people to help her in and out of her wheelchair and into bed. But she has been blessed with her sister helping her day and night while at home. And then, when FOCHTA put her into a boarding school, her good friend took upon herself to help her do the same chores. In fact, this selfless friend Lisbless Kaphatiwa was awarded by FOCHTA as the Student of The Year in 2015.
While during school and college holidays, Alambeje would never hesitate to make the effort to come to our centre to attend workshops even without transport. And this requires traveling three kilometres each way. But she never complained, always being content in what she receives.
Three years ago, her house was partially destroyed by a storm. FOCHTA soon after intervened by making full repairs to it.
We wish her every success in her future.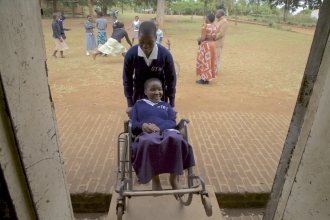 Posted on: Thursday, 11 January 2018 at: 2:12 pm