About FOCHTA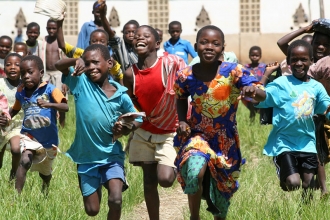 FOCHTA is a local non-governmental organisation (NGO) that works in the Thyolo District of Malawi in East Africa. We promote education and provide social support for children orphaned by HIV/AIDS and for other vulnerable groups, helping them build a future for themselves and their community. FOCHTA is not affiliated to any religious group.
Our primary focus is on education and training for vulnerable children and young adults. We do this by providing school bursaries (scholarships) for students and creating opportunities for young people to learn technical and vocational skills. We believe that educating young people today is tomorrow's hope for the future.
Many factors impact a child's success at school, however, and our programs and services are designed to help address the challenges our students face, from poverty and hunger to trauma and social isolation. We aim to improve the quality of life of our students and the community's most vulnerable, allowing them to focus on their studies and on the future, rather than on the hardships of today.
FOCHTA is a registered NGO in Malawi and a member of CONGOMA, an NGO network in Malawi that helps coordinate the work of members and minimize duplication.
Our Vision
Our vision is for a world where all young people, regardless of race and religion will have the opportunity to become healthy, well educated citizens who contribute to the wellbeing of their communities
Our Mission
FOCHTA provides educational, physical, psychological and social support for orphans and other vulnerable children who have been directly affected by HIV/AIDS
Our Values
Recognition of every person's right to human dignity, regardless of race or religion, as guaranteed in the Constitution of the Republic of Malawi;
Working collaboratively and cooperatively with civil society, government, the private sector and other partners to achieve our mission and our objectives;
A belief that education for all provides the surest pathway to the alleviation of poverty and;
Accountability to all of our key stakeholders
Our Objectives
Provide material support for young people throughout their secondary and tertiary education, including vocational education;
Provide social support and moral guidance to young people to enable them to make healthy choices in their lives;
Strengthen resilience and provide young people with the life skills that will enable them to meet the challenges in their lives;
Advocate for improving social services for those living with HIV/ AIDS as well as to orphans and other vulnerable children;
Provide material and social support to grandparents who care for their grandchildren. These grandchildren are FOCHTA student beneficiaries and;
To demonstrate transparency and use best practice in the achievement of our objectives and the measurement of our social impact.
FOCHTA Malawi Board of Trustees
Mr Claude Ho, Patron and Co-founder
Mr Teven Labana, co-founder and Chairman of the Board of Trustees
Mrs Hilda Ntiya, Member and Chairperson of Grassroots Committee
Mr Charles Sokoso, member
FOCHTA Malawi Grassroots Committee
Members of the grassroots Committee live among and are actively involved with the people, young and old, in their communities.
FOCHTA Malawi (Australia) Inc.
Claude Ho, Public Officer
Beth McVicker-Murphy, member